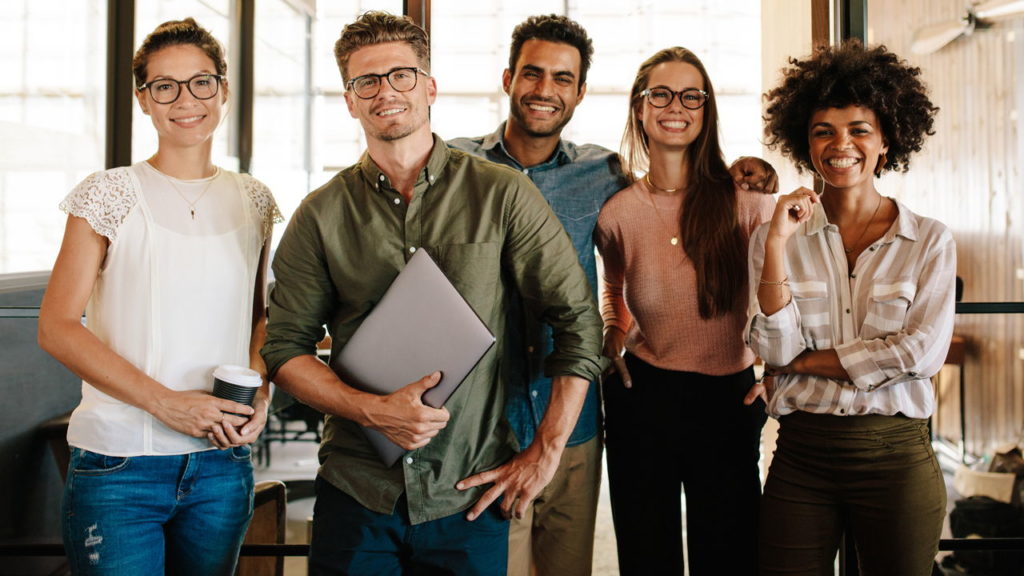 Diversity Mentoring
Best DEI Initiatives at Work to Start Implementing Today
Omer Usanmaz
March 20 2023
A strong inclusion initiative from business leaders always calls for an ongoing, strategic approach. The employee base in any organization should be robust enough, and that can only be achieved if a workplace celebrates different backgrounds, ethnicities, races, and so on. An inclusive workplace starts from building inclusive leadership where business leaders feel they are part of inclusion practices. But an inclusive culture still has a long way to go. According to research: 75% of employees believe that their company's diversity policies offer them no personal benefits, according to HBR. As society is diverse, it takes deliberate effort to create workplaces that respect and represent the diversity of our identities, cultures, and worldviews.
Inclusion efforts depict organizations' ability to show the width and depth of who they are as individuals and as groups of people brought together with similar interests and goals. As the foremost in their minds as business administrators, diversity, equity, and inclusion (DEI) areas should always be a part of company objectives and systematic working. Many vulnerable communities should be reaffirmed into the picture through their commitment to accomplishing the overall DEI goals. Concepts of diversity should be ingrained in organizations to recognize and appreciate the contributions, perspectives, and experiences of underprivileged communities across any sector. However, we also understand that for this and all DEI efforts to be successful, a planned and intentional approach must be taken year-round, involving all staff, and equity must be incorporated into our programs and procedures.
Strong DEI programs enable mutually reinforcing practices that produce a secure, fair, and inclusive work environment, fostering employees' trust and belonging and empowering them to innovate and produce their best work when done correctly. Additionally, doing the right thing for your freshers and experienced employees benefits your business's bottom line. Learn more about DEI practices and the equitable outcomes of implementing them properly in your workplace.
What Is the Meaning of DEI Initiatives?
DEI is an acronym for diversity, inclusion, and equity. DEI is a discipline that includes rules or procedures intended to welcome people from different backgrounds and give them the resources they need to succeed to the best of their ability at work. Diversity is the presence of distinctions within a certain context; in the workplace, this might include distinctions based on racial or ethnic background, gender, gender identity, sexual orientation, age, and financial status. Making sure that policies, procedures, and programs are unbiased and just and giving every person the best possible outcomes guarantees equity. Creating a sense of belonging among employees is known as inclusion.
Diversity is the existence of distinctions within a particular context. There may be distinctions based on racial, ethnic, gender, gender identity, sexual orientation, age, and socioeconomic class in the workplace. Aspects of diversity include disparities in athletic prowess, veteran status, and whether or not you have children. The process of ensuring that policies, procedures, and programs are unbiased and fair and give each individual the best possible outcomes is known as equity. Ensuring employees feel a sense of belonging at work is the practice of inclusion. It indicates that employees feel free to be themselves and that the company supports them.
Combining these three concepts, DEI is an attitude that values different viewpoints and places a strong emphasis on inclusion and worker well-being as essential components of success. Companies must develop programs and activities that actively create more diverse, equal, and inclusive offices to bring those principles to life.
What Are Some Examples of Dei Initiatives?
Changes in policies and procedures, staff training, targeted hiring, and employer-sponsored DE&I awareness activities for employees are a few examples of DEI initiatives. To build momentum for the initiative, the employer must create an action plan to implement these initiatives by establishing attainable goals and starting with the components with the highest business value.
Here is an illustration of an action plan:
Build the HR team's cultural competency and inclusive decision-making to guarantee that the team can more effectively leverage the variety of the team already in place and benefit from varied ideas.

The HR department head and leads are accountable. Other department heads should also be involved.

Action items include training in cultural awareness and competency, team-building activities, and ongoing one-on-one and in-team discussions about diversity and inclusion within every team.
Timelines: Team-building activities will be included in staff meetings and annual staff retreats. Culture awareness and competency training will be completed within six months.
What Are Diversity Initiatives in the Workplace?
Taking action and ensuring that diversity initiatives are successful and do not have unintended effects should go hand-in-hand. Preparing a diversity report every year to track its progress and to document the efforts will add to the benefits of workplace diversity. Several businesses caught in the interplay of diversity, both inside and outside the realm of technology, should put similar ideas into practice. However, the basics of diversity should always remain the same and focus on empowering the underprivileged and making them seen.
Casual diversity discussions are not enough to enhance target group members' employment results and experiences. There should be special efforts and projects that will typically target representation of women and racial or ethnic minorities. However, they can target any group with widespread disadvantages in society. They may consist of anti-discrimination policies (such as emphasizing merit as the basis for salary and promotions or educating staff about unconscious bias), initiatives that benefit specific populations (like diversity mentorship programs), or accountability procedures (like hiring a chief diversity officer or implementing a reporting system for discrimination).
Even though it seems simple, research indicates that these programs frequently don't function as intended. For instance, research has shown that a range of diversity initiatives, such as evaluating managers using diversity and inclusion indicators, diversity networking, and affinity groups, can result in either greater or lesser representation of target groups. These complex and unexpected discoveries led me to investigate why diversity initiatives don't always succeed and what might be done to make them more successful.
How Do You Start a DEI Initiative at Work?
Some effective ways of implementing DEI initiatives at work are:
1. Recognize The Influence Of Workplace Resource Groups
Specific employee resource groups (ERGs) are essential for companies to implement the concepts of diversity. The initiatives can be successful because business benefits are closely aligned with the company's four pillars: people and culture, platform, community, and customers. Business growth works within these pillars to ensure that everything we do is viewed through a lens of inclusion, equity, and diversity. They make excellent allies and collaborators.
ERGs are teams of underrepresented employees (such as Black employees, female, or LGBTQ+ employees), and they first appeared in the 1960s as a reaction to racial tensions during the Civil Rights Movement. Every business decision should be reevaluated to know if there are any incurrences to such groups.
2. Give Women's Development Top Priority
Gender balance at all workforce levels has been emphasized in recent years. It includes creating a place where female employees could gather, network, and offer support for goal-setting and mutual accountability. Hybrid work culture and other changes in post-pandemic have promoted work-life balance for women. But the negative impact of low wages for working women prompted the establishment of equity before diversity as a norm for female employees.
Women's leadership programs aid in building a strong workforce and highlighting potential growth areas inside a company. Giving women a place to explore leadership frequently inspires businesses to review their business mechanisms from time to time. Additionally, such initiatives aid in pointing out business operations in which unconventional methods—as opposed to standard, top-down leadership styles—can more successfully achieve organizational goals and business outcomes.
3. Reconsider Training Strategies
Training is sometimes viewed as a taboo practice only used when an employee struggles. Business strategy shouldn't just be focused on dealing with clients; managing the employee base by assisting the executive teams in creating diverse and equal teams is highly beneficial. Offering various types of diversity training to executives and other team leaders across the entire organization will lessen stigmas and guarantee organizational alignment.
Effective executive coaching with a DEI focus spreads good effects throughout firms. It equips CEOs with the cultural competency, speaking skills, and frameworks necessary to exercise purposeful allyship, implement DEI tactics, and speak boldly on challenging problems.
4. Ask Senior Leaders For Their Support
Diversity can take many various forms, depending on the marginalized employees. But magic comes when the key actions include different viewpoints. Senior leadership buy-in is one of the most crucial things in organizational actions. Senior executives should diversify their teams and allow various groups to interact. 2-3 strategic actions can improve their confidence in steering the team in one direction. Actual action items should bring about a systemic workplace culture change.
5. Initiate DEI Processes From the Beginning
It's critical to consider DEI—and involve internal experts—early on in the process, whether a business is considering a new initiative or conducting a new hiring interview. Whether or not we're on the right track, we know the impact is greater the earlier our voice is expressed. A vital sign of success is in integrating DEI activities within the company. It doesn't appear with a simple wrist flick. It requires effort, commitment, and communication of why something is crucial, but that's how you know you're making a difference.
Standardizing the examination of DEI-related issues can aid in developing a more uniform and equal culture as businesses improve processes to advance their DEI workplace goals.
6. Track Your DEI Activities
The significance of using data to assess adherence to the organization's guiding principles cannot be stressed more. "Ensuring our workers and customers are at the essence of all we do should be a core principle.
Particular DEI questions can be utilized on its bimonthly employee surveys to monitor employee attitudes. It is in addition to more conventional measurements of workplace satisfaction and engagement. A national employee advisory council serves as a sounding board for fresh concepts and initiatives. The company's leadership maintains tight ties with ERGs, its women's leadership group, and these groups. However, just listening is insufficient. The value of following up with staff members is necessary to demonstrate that their feedback has been received and is being considered.
How to Reap Better Results Through DEI Practices
The best diversity strategies for organizations to implement are the subject of much research. However, everything you will learn about unintended effects will point to the necessity for everyone to be aware of the signals, messages, and interpretations that these programs are using. On the one hand, that presents a challenge because it can be tough to block unseen messages. However, it also gives leaders a chance to take charge of the narrative and be deliberate in discussing and supporting diversity programs.
While identifying three major categories of discourse that executives may employ when discussing diversity are:
The notion that variety generates value for corporate and moral grounds is known as "diversity is good." It's ethical, or it's advantageous to the bottom line.

Diversity is harmful. The notion is that diversity causes difficulties, conflicts, and issues. Though wonderful, commitment to diversity may be quite challenging.

Diversity can be advantageous, but it requires a lot of effort to achieve this.
The most typical way to discuss diversity in organizations is by addressing the barriers for people. However, simultaneously highlighting diversity's benefits and challenges is more beneficial. In this way, the company will be perceived as having greater credibility if you present an argument and discuss the drawbacks of your point of view. Additionally, you're stating something unexpected, encouraging folks to pay closer attention. According to research on "refutational" communications, conveying that something has advantages and disadvantages is especially beneficial, but the advantages outweigh the disadvantages. Similar to this, "diversity is good, but also incredibly hard" asserts that diversity is important but challenging and that if you're prepared to overcome those obstacles, you'll experience significant benefits.
This strategy is not only more convincing, but it also reflects reality. Not because diversity doesn't matter, but thorough analyses of how diversity affects team performance have found no effects. It's because diversity occasionally has a negative impact. People who are different struggle to get along, and the friction and tension they encounter negatively affect the team's effectiveness. When employees are exposed to diverse viewpoints, they become more creative, make better decisions, and increase organizational performance.
These positive results require hard work and a few prerequisites to be met. According to diversity studies, we know what labor-intensive work entails:
Establishing cooperative and collectivistic norms, where people prioritize the needs of the collective before their own.

Appointing transformational leaders who motivate staff to excel.

Teamwork that involves thoughtful consideration and openness to new experiences.




Attempting to understand things from other people's perspectives by practicing perspective-taking.
Inclusive Workplace for an Enriching Workplace Experience for All
Though most people may be aware that the benefits of diversity are beneficial, creating inclusive companies requires a systemic approach. However, the narrative of workplace diversity may be widespread within your company; if the company leaders are not mindful of the approach, it's difficult to make meaningful progress. The more inclusion challenges are realized, the leaders may handle the more challenging responsibilities, take meaningful action and improve company culture.
Many leadership cultures should focus on leadership for individuals and teaching them diverse values so that the concept does not get diluted when it goes down the hierarchy. It is important to acknowledge both the positive and challenging aspects of diversity. An open discussion of diversity will not only paint a more accurate picture of how diversity affects organizations but also increase our chances of achieving our goals for promoting inclusion and diversity.