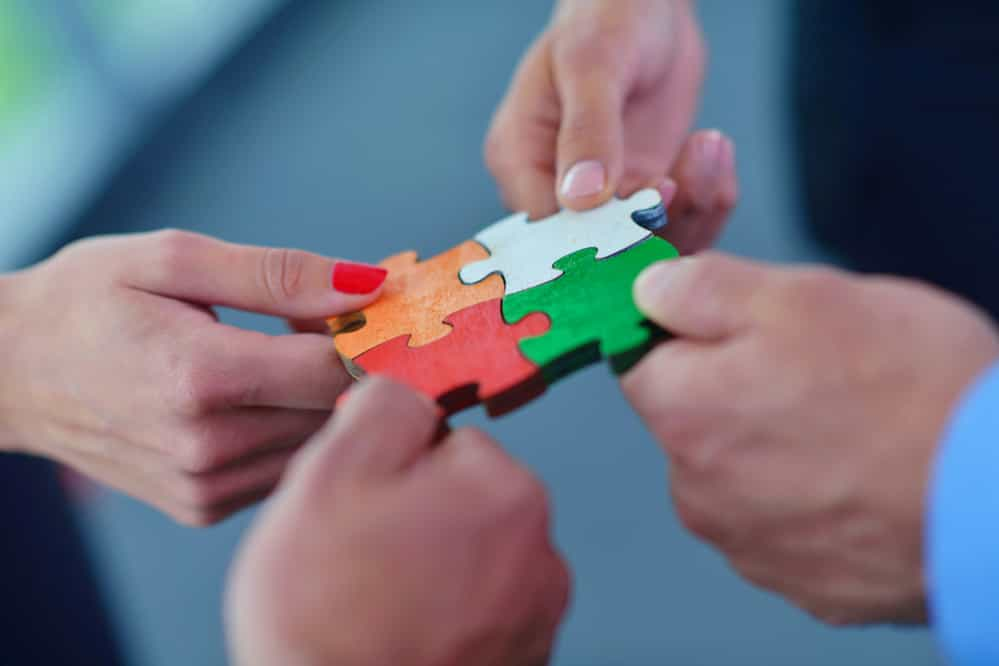 Mentoring Program
Group Mentoring Programs: Why Should Organizations Implement Them?
Omer Usanmaz
February 14 2022
Mentoring has long been known as an effective tool for developing leadership skills. Mentoring sessions help individuals receive guidance and learn from each other by sharing knowledge, experiences, and insights. This implicit and tacit knowledge transfer from mentors to mentees can be done via an individual or team mentoring model.
A traditional or distance one-on-one mentoring program provides focused attention; however, it can be expensive and time-consuming. On the other hand, a group mentoring program provides multifold benefits at a fraction of the cost and lesser time commitment.
Group or collective mentoring models entail positive peer interactions and first-hand experience to provide leadership, communication, critical thinking, and complementary skills. If you're looking for career development and holistic growth, a group mentoring program is a great option.
Read this blog to know more about a group or collective mentoring models and how they could make a difference in you and your organization.
Introduction to Group Mentoring
Concept Of A Group Mentoring Program
Group mentoring is a social work intervention where individuals with similar experiences come together to support each other to resolve their concerns. The group members meet regularly; usually every week, they share stories and connect the struggles they face in their own lives with those faced by others. Group members are encouraged to develop relationships with peers and work toward a better career status together. Often, this is done with the help of a social worker who facilitates the group sessions and provides individualized attention to each member as needed.
A Mentoring Model's Relevance in Today's Time
Mentorship is an age-old concept and has only evolved over the years. Technological advancements have only made mentoring more developed rather than redundant. Today, mentoring goes beyond traditional mentorship and may even include innovative models such as virtual mentoring, reverse mentorship, or speed mentoring.
If you are considering implementing a group mentoring program for your organization, here are three reasons why you should embrace it:
1- Millennial Workforce
Today's human resource pool is flooded with inquisitive youth who are highly aware of their goals and ambitions. So when it comes to mentoring programs offered by an organization, professionals consider it a necessity and expect to derive exceptional value from it.
They want their preferences and needs to be considered while designing any training program. Further, they prefer learning by examples through fast-paced instruction in a relaxed setting. Hence, traditional methods of training and development may not work.
2- Cross-national Workforce
Globalization is not restricted to organizations but their workforce as well. Technological advancements have resulted in cross-national teams working on the same projects. Hence, the training provided to such teams will need to be designed keeping the group dynamics in mind.
Importantly, such a team may also require cultural training to ensure better communications and collaboration across teams. There should also be a good mix of face-to-face and virtual interactions to ensure seamless interaction between employees across departments and geographies. Further, such a workforce gravitates towards a more equitable form of mentoring that goes beyond gender, sexual preference, educational qualifications, financial background, religion, nationality, and so forth.
3- Upcoming Trends
Technology plays a significant role in the functioning of each organization across verticals. Hence, a training module must be designed comprehensively to keep the existing and potential workforce abreast of current trends. Professionals are looking at ways to be a part of the constantly evolving business environment. Information regarding emerging subjects like blockchain, artificial intelligence (AI), data science, machine learning (ML), and design thinking must be provided.
Further, even the training models have evolved with organizations introducing reverse mentorship where top-ranking senior employees get trained by a junior employee to understand the younger market and technologies. Virtual mentoring has garnered attention during the pandemic, while speed mentoring is beneficial for professionals unable to devote a lot of time to training.
Transforming your formal and informal group mentoring program in line with changes in the business world will facilitate changes in the way people work, train, and grow. It will ensure that your program is relevant, engaging, and universally successful.
Being ahead of the learning curve is something that employees worldwide are looking to achieve. Hence designing a mentoring program that will genuinely add value to them will also benefit the organization.
Traditional One-On-One versus Group Mentoring
Group mentoring programs are becoming increasingly popular to remain competitive, develop employee skill sets, and retain the finest talent. As a part of the program, a small group of employees is assigned an effective group mentor who provides guidance and support. It brings individuals together that are not necessarily a team yet with a clear goal of developing the mentees. Additionally, it helps build interpersonal relationships, a sense of community, and most importantly, plays a big part in leadership development.
Due to the several advantages group mentoring possesses over a traditional one-on-one mentoring program, 70% of the top companies are running mentoring programs to train their workforce internally.
Let us delve deeper to understand the differences in the two types of mentoring models:
Program Design
It is a process where a more qualified and seasoned professional helps and provides guidance to a less experienced or skilled person. This type of mentoring usually takes place in a private setting with a single mentor and is often considered more beneficial than other forms of mentoring.
It is a process where a group of people, typically from different backgrounds, come together to learn and grow from one another. The group shares their collective knowledge and experiences to develop as individuals and as a community.
Focused vs. Diversified Approach
It focuses on the individual needs of the person being mentored, while group mentoring takes a more collaborative approach to learning and problem-solving. They are generally provided to executives or mid-level managers who can decide their career paths rather than entry-level associates.
It allows diverse people to be mentored in groups, generally with 6-8 mentors providing an environment for supportive relationships, participative learning, more feedback opportunities, and a greater exchange of ideas.
Formal vs. Informal setting
This mentorship involves a formal and authentic relationship between an experienced employee and a less-experienced one. A senior leader or expert provides focused counsel and direction to junior employees to help their career status and growth.
This mentoring usually pairs senior employees with more junior employees with the capabilities and complementary skills to become future leaders. The medium of instruction and the setting are generally more flexible and casual to encourage social connections.
Time Duration
Here, focused mentorship is provided over a long period. The mentees' relationships with mentors prepare them for development opportunities. The mentor becomes a source of knowledge, upskilling, and support for the mentee.
These mentorship programs help reach out to employees and create an impact in a short period. Some organizations opt for these sessions when they need good mentors. Typically, they last for a few weeks to months.
Comfort Levels
This is a common approach in organizations to suit the mentee's individual and unique learning objectives. However, it can be an extreme form of training for some uncomfortable receiving advice face-to-face.
As per a survey, more than 60% of male employees were hesitant to participate in work activities with women, such as working together or mentoring. It becomes a hurdle for female mentees if the company is male-dominated. However, organizers will not face such a challenge during online mentoring.
Comparing one-on-one versus group mentoring, the former is less intimidating for mentees as it facilitates interactions with multiple people and helps build social networks. It ensures that all mentees walk away with the same set of knowledge and binds the mentees to the corporate culture.
Today when organizations compare one-to-one and group mentoring, they are tilting towards a more egalitarian form of mentoring that involves shifting from traditional roles and methods to a more flexible and rapid framework.
Process of Setting up An Effective Group Mentoring Program
The responsibility to provide the mentee with appropriate learning resources and to ensure holistic development lies with the mentor.
Follow the below step before setting up a program in your organization:
1- Evaluate Existing Programs
Most organizations already have their own formal and informal group mentoring in some form or the other. Leveraging and streamlining these programs can be the first step to achieving robust and well-guided mentorship programs.
2- Goal Setting
Mentoring objectives need to be clearly defined to develop positive peer interactions, promote organizational goals, define a career path, or enhance leadership skills. Notably, the mentors should link learning to achievement to better measure program success.
3- Identification of People
While designing any formal group mentoring programs, you must consider both mentors and mentees. You need to understand the mentor's strengths and plug-in gaps in the mentee's knowledge.
Capitalizing on expertise and experience helps strengthen the program and makes it more credible, involving bringing in external specialists with authority over the subject matter. Furthermore, ensuring a good mix of people and maintaining diversity will help develop relationships with peers.
4- Create A Clear Road Map
This step is followed in one-to-one and group mentoring programs. Well-defined objectives and a categorical plan are what help create an effective program. As they say, well begun is half done! To map out a comprehensive session, one also needs to include elements such as schedules, description of a mentor role, learning materials, group formations, qualifying parameters, and so forth.
5- Draw out End-of-program Objectives
Since all good things must come to an end, so will a mentoring program. However, what stays on are the learnings and enduring group interactions. You will need to evaluate whether assessments need to be undertaken at the end of the program and whether further mentoring is required.
Lastly, continuous learning needs to be inculcated in the mentees. While the mentors are there to guide and coach, the mentee needs to put in the effort, time, and commitment to make most of the knowledge shared.
While following the above steps, it needs to be understood that group mentoring is designed purely to reinforce skills and collectively foster continuous learning. It needs to be designed so that it creates a supportive and collaborative environment.
How Do You Effectively Run A Group Mentoring Program?
Mentoring is a valuable growth tool for both personal and professional development. Group mentoring involves organizations using mentoring schemes for knowledge transfer, enhancing teamwork, and stimulating a leadership culture. Its innovative approach and broad learning objectives have proven successful in many organizations.
Let's look at what it takes to run a successful mentoring session:
1- Program Preparation and Goal Clarity
Preparing well in advance, setting clear objectives, and creating a robust structure of your mentoring program is the first step to making it effective.
First, you will have to design the group's structure to align with the overall goals. The number of participants, group size, and the background mix need to be determined.
Next, you will have to define the specific learning and developmental goals that need to be accomplished from the session. An understanding must be obtained from both mentor and mentee on what is expected to be delivered in these sessions. Once agreed, a session agenda can be shared, summarizing previous training sessions and outlining objectives for upcoming sessions.
2- Effective Communication
After planning your formal group mentoring programs, the next natural step is communicating it effectively to all the participants. Whether the session is face-to-face mentoring or virtual, the frequency and duration of sessions, the location, preparation required, etc., without communication of the program details, the participants will neither be aware of the program nor be inclined to attend. Further, to build a sense of community, active communication helps build mentees' relationships with mentors and strengthens the relationships between mentors.
The communication needs to extend to the actual session as well. Genuine, candid, and transparent discussions are the secret to a formidable mentoring session. Further, that being said, a safe space needs to be created that ensures that discussions will remain confidential. It may be specifically essential when thought-provoking topics give rise to psychological triggers.
3- Determine An Appropriate Program Duration
While an authentic relationship between mentor and mentee may be long-term, the program by nature is short-term.
Typical there are four stages in a mentoring relationship:
Foundation built on communication
Growth through a predetermined set of objectives and goals
Reiteration through a focused analysis of objectives and outcomes over time
Latent mentorship through intermittent follow-up discussions
Hence, the timeline and length of sessions need to be predefined In alignment with the organizational goals and the mentoring relationship.
While it can take around 1 to 2 months to build the foundation, growth can take 2 to 5 months. Reiteration takes longer (approximately 5 to 9 months) to reinforce the learnings, followed by a tapered latency period. Thus, the optimal length of a mentoring program is around 9 to 12 months, consisting of mini-sessions of one to two hours in duration.
While this is the average time needed to develop a mentoring relationship, one needs to leave room for adjustment. While some mentees prefer shorter and more frequent meetings, others prefer detailed discussion in spaced-out sessions.
4- Be Logistically Prepared
Once you have determined the duration of the mentorship program, you have more insight into how to prepare logistically. These sessions are usually scheduled in advance, giving you enough time to make arrangements. If it is a more extended program, you may need to look out for designated spaces, and if the sessions are sensitive, the space needs to be more closed and private.
Today, with virtual meetings making headway, there is an increased need for making virtual arrangements. Remote programs may seem like lesser logistics, but it entails more planning. One needs to ensure that all the participants are available, have the relevant tools to connect offsite, have good internet connectivity, and so forth.
5- Be Mindful of Individual Participants' Needs
Today, mentoring programs are more inclusive and supportive. It includes people despite having various backgrounds, challenges, and needs. Before the actual program, most organizers send out a form asking participants if they have any special requests.
For example, mixed-race group sessions may need translators or translated resources. Further, people suffering from physical ailments may require additional arrangements like alternative seating, transportation, learning aids, etc. With the increasing importance given to medical health nowadays, organizers are more accepting of the personal challenges faced by mentees and are eager to provide focused attention. In general, group sessions also involve people with different mindsets interacting regularly.
Hence, organizers need to reach out to participants and make them comfortable to ensure their effectiveness.
6- Provide Value by Acting As A Support Group
By nature, mentoring sessions include various topics, handle various conversations, and manage how to manage expectations. However, the underlying purpose of a group mentoring program is to provide ongoing support to all the participants.
Mentors and mentees need to be provided with all the topical learning materials, additional guides, program policies, and other resources for a comprehensive training program. However, post the program, the organizers need to regularly check with the participants if the learning provided is helping them or whether they need additional assistance. Post each program accessible, and contact numbers can be given for mentees to reach out to the mentors or organizers in case of need.
7- Effective Use of Technology
As earlier mentioned, communication is vital, and powering it with technology will only help make the training process more effective. Technology can be used at each stage of the training process, right from taking online polls from participants on the choice of topics, online scheduling of meetings, sharing of data repositories to feedback forms. Technology can also help you track attendance, acceptance of meetings, and the program's overall effectiveness. Importantly, reducing manual effort enables you to reach out to participants in a more meaningful way through online mentoring.
8- Measure Results and Document Feedback
Group or team mentoring has a long-lasting impact on all the participants. Considering that the program requires commitment from all participants, mentors must be in touch with the mentees to see if objectives are being achieved or whether objectives need to be reviewed.
Checking The Effectiveness of The Program
To check the effectiveness of your program, it is crucial to release periodic quantitative and qualitative surveys to understand the mentee's progress, retention, and reaction to the program. This is also useful to see whether the program was aligned with the organization's goals and individual needs.
If certain professionals could not participate in the program, you can compare the growth and development with those who did attend. That will also help you understand the overall impact of the program better. The results can be used to improve future programs as well.
Technology also plays a vital role in deriving insights and analyzing results. Instead of manually calling people up to understand the effectiveness of your program, you can design a portal to track progress, integrate Q&A forums, and promote participant engagement.
How Will A Group Mentoring Program Benefit You?
This form of learning and development program helps mentees gain multiple perspectives and better understand complex issues. It also helps develop both mentor and peer networks which are long-lasting supportive relationships in the industry.
The group mentoring programs help increase their standing and influence in the industry for the mentors. Further, training the mentees helps them build their communication skills, leadership skills, strong facilitation skills, academic skills, etc. Additionally, it helps them build campus connections and develop positive relationships.
Overall program benefits are:
Time-efficient training and development provided with increased outreach
Promotion of workplace diversity with inclusive programs for heterogeneous groups and homogeneous needs
360° knowledge sharing where both mentees and mentors derive important insights and outcomes over time
To conclude, effective modern mentoring programs have a far-reaching impact and potentially create positive ripple effects. Group mentoring programs provide employees with additional skills and help them with a defined career path. Designing a well-structured modern mentoring program and ensuring its effectiveness will help strengthen your organization standing in the long run.