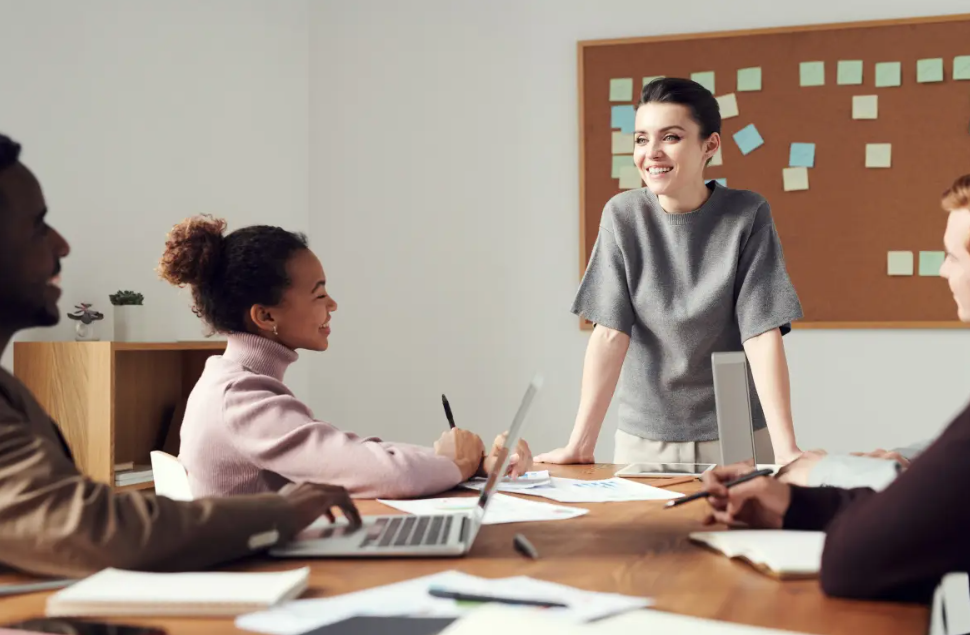 Employee Mentoring
The Interconnected Benefits of Mentoring Programs in the Workplace
Omer Usanmaz
January 14 2022
As Oprah Winfrey once said, "A mentor is someone who allows you to see the hope inside yourself." At some point in life, we all need someone to be there for us, guide us in our most difficult times, give us advice on life-changing decisions, and for many other reasons. For some, mentors could become their best friends later in their careers or personal life. One of the reasons we trust mentors for our professional development is because they have been there before, in the worst and best times of their careers.
Young professionals need insights and guidance when they explore the very first beginnings of their professional lives. Most importantly, mentorship and mentoring programs are needed now more than ever, as millions of students lack proper support, vision, and goals that have to be set to direct their lives in the right direction. Only a skilled, optimistic, and open-minded mentor can rightly guide and teach the young generation that needs a tap on their head to tell them they are professionals now and doing a great job.
Without mentors, most people would end up making frequent mistakes in the workplace. The need for mentors is more evident now since many people are left to work and learn from home. For many, the idea of getting mentored or mentoring is a one-way street, thinking only the young mentees get all the benefits, growth, and career development. The truth is that mentoring is a two-way street where both mentors and mentees get benefitted. This article will discuss the benefits of mentoring in the modern, remote workplace, look at the different types of mentoring, and consider how they can mutually benefit mentors, mentees, and the organization.
What Makes Mentoring Necessary in Today's Work Environment?
Today's work and company culture are more inclusive, diverse, and liberal than ever before. With a stable internet connection, anyone can work from anywhere. A lot of factors contributed to this convenient, digital work environment. COVID and the pandemic were the trailblazers for many innovative things that were totally unheard of two years back. As many young professionals realize that this pandemic is not transitory as the whole world hoped, they are gradually getting accustomed to whatever comes from the pandemic. But, what does the profession of mentoring have to do with the pandemic and modern workplace? Mentoring has many reasons why modern workplaces and remote working models need to focus on their new and young professionals. Here are the key benefits of mentoring in a workplace:
What Does Mentoring Mean to Mentors in Context of their Work and Career?
From increased job satisfaction to improved leadership abilities, mentors enjoy a wide range of benefits of mentoring when they whole-heartedly focus on providing their guidance and knowledge to their young, newly joined peers. Besides all those professional skills a mentor could possibly develop while mentoring the young professionals at work, the probability of making friends and new healthy relationships is the most intangible of all the benefits. When a senior employee chooses to mentor another employee who is probably less experienced and unique, they will likely develop a solid professional relationship and achieve their career goals. Listed below are some irresistible benefits a mentor could expect from mentoring in the workplace:
Advanced communication skills
Leadership skills
Enhanced listening and compassion
Stronger community engagement
Increased

job satisfaction
Promoting

employee retention
Goal-centric development

opportunities
Effective interpersonal skills
The Value of
Mentoring

to Mentees

Being mentored by a highly experienced mentor in the workplace profits a plethora of benefits to mentees. Whether an employee is new to the workplace, job, or looking to learn more advanced level skills, having a mentor increases productivity, networking opportunities, and the ability to stay ahead of the competition in the workplace. Mentees get imbued with passion and determination when paired with a mentor who can help them understand the hidden talent in them. Goal setting is one of the career challenges a novice professional in a modern work setting would face. This is why the importance of mentorship is strongly emphasized in any work-related conferences and seminars in many companies.

Only those who face potential challenges taste success and prosperity in a competitive workplace, but a mentor could help you stay focused, inspired, and productive, staving you off from the most preventable mistakes at work. For example, when a mentee learns from their mentors' past experiences, it is less likely that they will make the same mistakes.
Key
Benefits

of

Mentoring

Programs in a Workplace

Almost every organization in the world has its own mentoring program. Like any other developmental schemes and programs in an organization, mentoring programs are many types. Some companies run informal mentoring programs, while others go for formal mentoring programs. Finding and working with a mentor who is most appropriate for the field is a defining career choice for young employees in a workplace. Below are the most powerful benefits a mentor, mentee, and their organization can take advantage of when incorporating mentoring into their workplace.
Diversity and Inclusive Culture through Bonds
To build a workplace where everyone can feel welcomed and respected, an organization needs to be more inclusive and open-minded. Not only are the benefits of mentoring programs include high employee retention rates and job satisfaction but they also pave the way for an inclusive workplace. With a structured workplace mentoring program, companies can drive their mentees and mentors towards a bunch of benefits, including augmented career benefits to the mentors and several intangible benefits to the mentees and organization alike. Mentoring in the workplace is one of the major factors that define the type of corporate culture an organization has adopted and deployed for better employee satisfaction and effective mentorship experience.
More Recruitment Opportunities
Many things make mentoring necessary and beneficial for new and experienced employees in a work environment. For example, during the recruitment phase, the hybrid working organizations can effectively benefit from a structured workplace mentoring program that allows the human resources team to find forward-thinking managers and an efficient approach to create high potential leaders within the team. By adopting such a data-informed approach that comes as one of the advantages for mentors, recruitment programs seem so easy and promote a healthier workplace culture.
Confidence

and Encouragement
Sometimes, even a highly-skilled employee could get anxious during a conference, a decision-making meeting, and so many other scenarios that involve eloquent communication and interpersonal skills.
For instance, A newly joined employee is probably meeting such a bustling and advanced working environment for the first time, so the probability of getting stuck at an impasse in the middle of a conversation or even in the very beginning of the discussion is not very highly unlikely. Only experienced mentors are the perfectly positioned people in a workplace to provide guidance and genuine feedback to young employees in their learning phase. Qualitative feedback and effective mentorship programs are the driving forces behind faster promotion rates and leadership skills among mentees.
Different Perspectives and Problem-Solving Techniques
Effective problem-solving techniques are one of the most indispensable and must-have skills for an employee to confidently face and overcome career development challenges in their learning and development phases. Through virtual mentoring, mentors can help mentees have various innovative perspectives to approach a task in the workplace. This can be seamlessly done through mentorship programs that can be organized and implemented in almost every area of the organization, allowing mentors to independently learn from experiences and senior leaders of their organization.
Reduced Turnover Rates
The companies that hire a large pool of talents have one thing in common. - the investment in job training. For an employee, the recruiting process may be a simple and ephemeral process, but for the organizations, the amount of time and money they spend on it is more than what an employee could possibly know. The benefits of virtual mentoring have a positive impact on the overall training costs. This is because a structured workplace mentoring program is the easiest and subtlest of all the ways an organization can reduce the investment spent on training and onboarding new employees. With a virtual mentoring program in action, companies can rest assured that their new employees are proficiently trained and educated as to their work duties without spending too much time and effort in the classroom for training purposes.
To Summarize Briefly…
More than a catalyst in creating an inclusive workplace, virtual mentoring is a great way to bring a load of benefits for the mentors, mentees, and organizations to greater effect.
When reading the success stories of remarkably best-performing companies in the entire world, one factor stands above many others; thriving companies have diversity in leadership, and with high-potential leaders come profitable and lucrative benefits. As you are now aware of the transformative benefits of virtual mentoring, now could be the perfect time for organizations to implement engaging, strong mentoring programs that should be considered in every organization for futuristic business goals and objectives.